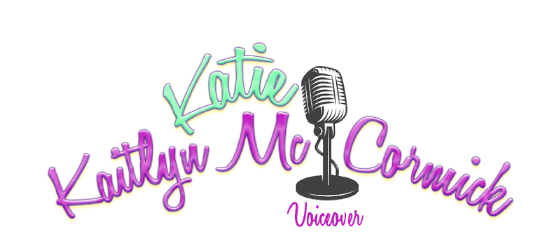 Accents: Strong British, Southern, Hungarian
Singing Range: Mezzo soprano - low G3 – high Bb5 – belt D5
Training:
Lynnanne Zager
Sue Boyajian
Bob Bergen
Jennifer Trujillo
Sara Sherman
Mary Lynn Wissner
Johnny Gidcomb
Amy Palmo
Marsha Goodman
MJ Lallo
Martha Kahn
Wendy Faraone
Cheryl Faye
Howard Meltzer
Steve Staley
Eden Espinosa
Karyn Overstreet
D. Candis Paule, CSA
Brooke Byler Acting Studios – Improv, Advanced On-camera, Audition Technique, Scene-work prep for pre-reads and call-backs, VO, Mike Brayden, Martha Kahn












Kaitlyn "Katie" McCormick is an award winning, professionally trained SAG-AFTRA child actress and singer who specializes in voiceover work. She began doing voiceover work in 2016 after being involved in both stage and screen productions in San Diego and throughout Southern California since the age of 7.
Her most recognizable voiceover credits include the English voice of "Masha" in the international Russian animated show Masha and the Bear. She voices "Masha" in Season 3 on Netflix, Universal Kids, Cartoonito and many other networks in English speaking countries around the world. YouTube video views of her Masha episodes exceed 350,000,000! Her other Voiceover credits include The Twins from "The Shining" in the sequel "Doctor Sleep" and a number of ADR/Looping/Singing jobs on feature films and TV series.
Katie loves theatre and has been in 8 theatre productions with different theatres including Moonlight, CYT, ACT, CYC and Pickwick Players. Her favorite role was Molly in "Annie Jr" with ACT and Sally in "Charlie Brown Christmas" with Pickwick Players. She earned a "Best supporting actress" nomination by the National Youth Arts Organization.
When Katie was 9 she started doing short films with students at SDSU and local filmmakers and was in her first SAG ULB feature film Fortune Defies Death in Los Angeles which recently earned her 2 film festival acting awards in 2018 - "Best Youth Actor" and "Up and Coming Actor" at the Bare Bones International Film and Music Festival in Muskogee, Oklahoma.
Katie obviously has a passion for acting and singing and has trained extensively since 2013. Here is some of the training she has done.